You've spoken and we heard you! Quick and easy Instant Pot weeknight meals that can feed the whole family are top of mind. We all want to feed our families delicious homemade meals, but don't always have the time to do it, which is precisely why we all love our Instant Pots so much! This Tuscan Chicken Pasta is creamy, filling, and absolutely packed with flavor. But best of all, it's quick and easy to make!
Want New Instant Pot Recipes and Content Delivered Straight To Your Inbox? Sign up for our Instant Pot Email Newsletter!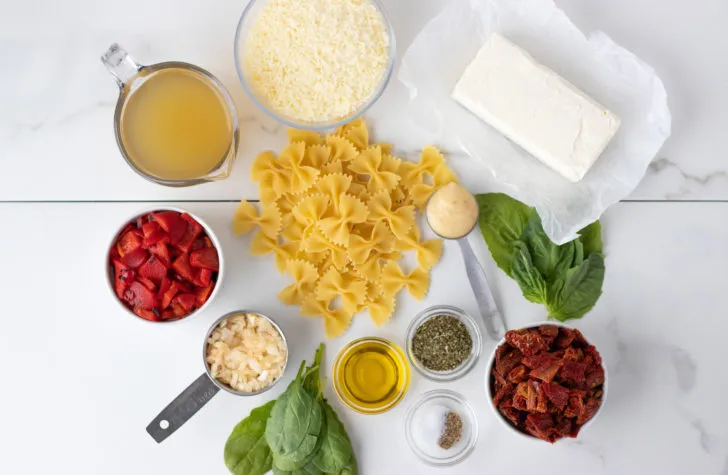 Start with the oil, chicken, onions, and garlic in the pot on the Saute mode to brown the chicken and allow the garlic to become fragrant. Once it's properly browned, add the broth to the pot and use a spatula to scrape the bottom of the pot and release any stuck on bits. This is an important step in order to ensure you don't end up getting the BURN notice when you pressure cook later!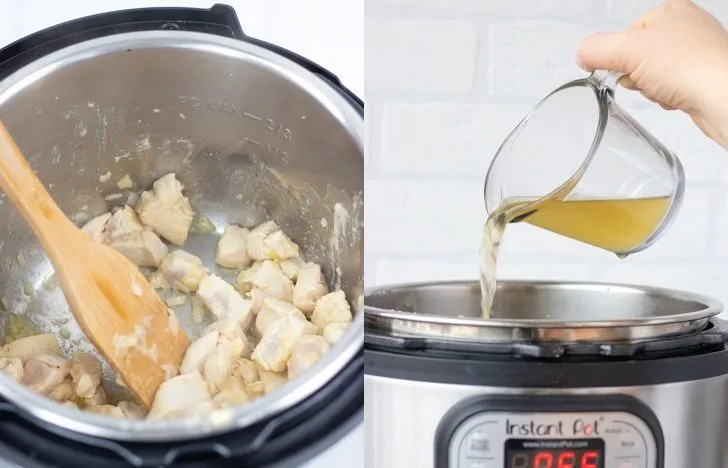 Add the salt and pepper, Italian seasoning, and bow tie pasta to the pot, but do not stir. Gently pat the noodles into the liquid, but don't worry if a few are still stick up out of the broth. Cook on Pressure Cook/Manual HIGH for 5 minutes and quick release the pressure when the cook time has elapsed to avoid getting soggy, over-cooked pasta!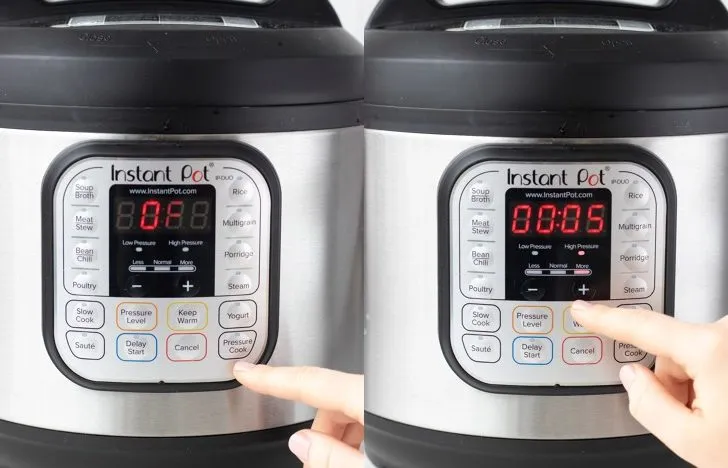 Immediately (while the dish is still hot!) add the dairy – cream cheese, parmesan, and (if needed) milk or cream. If there seems to be a lot of broth, omit the milk/cream and just add the cheeses. It'll still be very creamy! Stir well until it melts. Then add the roasted red peppers, chopped fresh spinach, and sundried tomatoes, stirring to combine and until the spinach has wilted.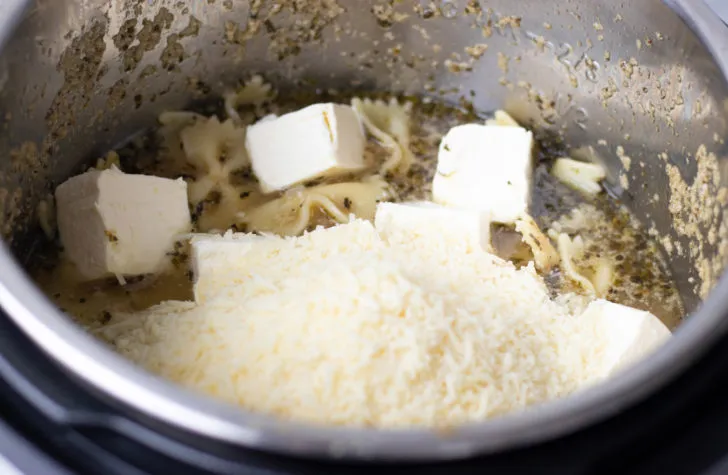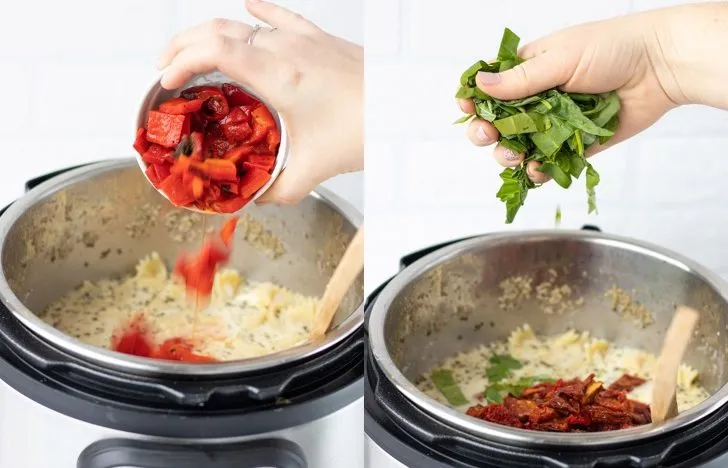 If it seems a little runny, turn off the Keep Warm mode and allow it to cool for 5-10 minutes. It'll still be hot when you serve it, but a little time will allow the sauce to thicken up in our experience. Serve it up topped with fresh basil and more fresh pepper if desired. Eat it hot or allow leftovers to cool completely and store in an airtight container in the frige. Enjoy!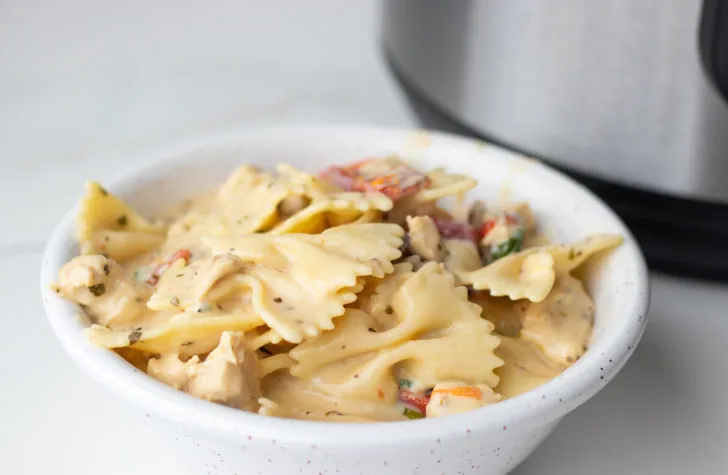 Ingredients
1 lb boneless skinless chicken breasts
2 tbsp olive oil or butter
1 small yellow onion, chopped
1 tbsp minced garlic
1 tbsp Italian seasoning
5 1/2 cups chicken broth
12 oz bow tie pasta
½ cup milk or light cream (if necessary)
8 oz cream cheese, softened and cubed
1 1/2 cups parmesan cheese
1 cup sun-dried tomatoes, drained and chopped
1 cup of roasted red peppers, drained and chopped
1 1/2 cups spinach
Salt and pepper, to taste
Fresh basil, for garnish
Method
Turn Instant Pot to Saute mode. Once hot, add olive oil/butter and garlic, onion, and chicken. Allow to brown, about 3-4 minutes. Turn off Saute mode.
Add broth, salt, pepper, and Italian seasoning. Stir to release any food stuck to the bottom of the pot. Add pasta, but do not stir. If required, gently push the pasta into the liquid until mostly submerged, but do not push too close to the bottom of the pot, as this will likely result in the BURN notice during cooking.
Lid the pot and set the valve to sealing. Cook on Manual/Pressure Cook HIGH for 5 minutes.
Once cook time has elapsed, quick release the pressure so that the pasta doesn't become soggy.
Remove the lid and add the milk/light cream if the dish doesn't have excess broth. If there is enough broth, omit the milk/light cream.
Add the cream cheese and parmesan. Stir until melted.
Add tomatoes, peppers, and spinach, stirring until combined and spinach has wilted. Season with extra salt and pepper if required. If it still looks a little too runny, allow to sit for 5-10 minutes to thicken.
Top with fresh basil and serve hot!
Notes
It took our 6 Quart Instant Pot Duo 17 minutes to come to pressure but this will vary depending on the model and size of your Instant Pot.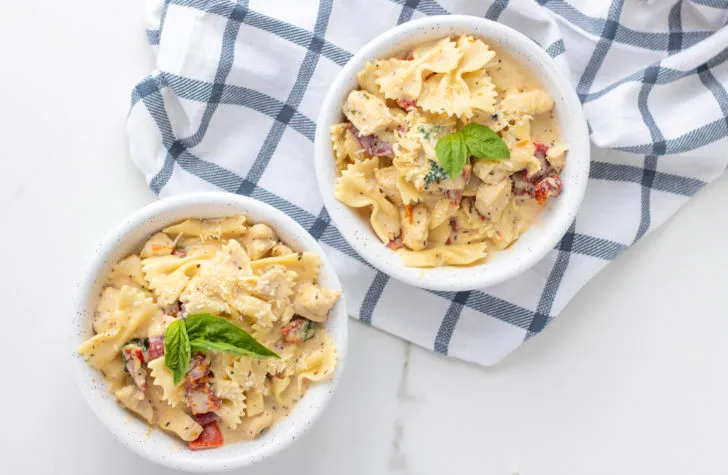 While experimenting with the Instant Pot I quickly discovered that it can not only cook a quick and easy weeknight meal but it can...
Parties happen all year round and instead of taking on the task of cooking for a crowd, make your next party a potluck party!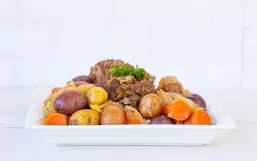 Roast beef is one of those meals that's an oldie but a goodie. If you have company coming over for supper - it doesn't matter who...
The 4th of July holiday indicates that summer is here. On this patriotic holiday friends and family gather together to play games,...
The season of fall is a favorite for many because it means crisp air, cozy layered clothing, and of course comforting meals.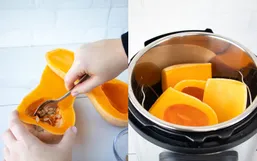 The holidays are a busy time of year, between hosting guests, planning a dinner, and catering to everyone's needs it can get...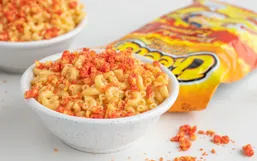 There is no comfort food like mac and cheese - the carbs and cheese are oh so delicious!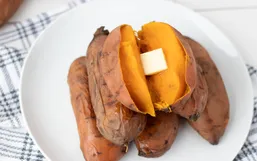 The thing about root vegetables is that they often take a lot of time to cook, especially in the oven.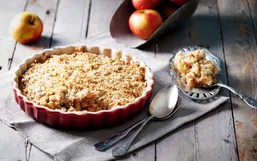 The holiday season is busy, between decorating for Christmas, hosting parties, buying and wrapping gifts it can all be...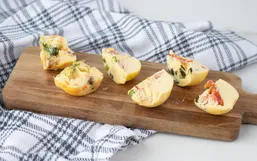 Breakfast is often the most rushed meal of the day. Sure, lunch is eaten while at your work desk and supper may be thrown...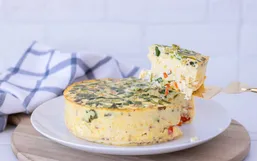 Leisurely weekends are my favorite because it's a chance to unwind and relax.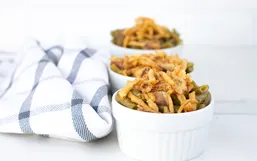 Do you love drool-worthy casseroles? Then get ready for a true treat!