Father's day is fast approaching – do you know what you're going to do to make this Father's Day special for your dad?
Everyone knows that the food is the key to any man's heart. What better way to show your dad how much he means to you than with a homemade dessert featuring his favorite chocolate bar as the main ingredient.
From Skor and Twix to Snickers and M&Ms we have the most popular chocolate bars on the planet morphed into some of the most delicious desserts on the planet.
If you're looking to create a truly unique dessert for Father's Day this year, we encourage you to check out these 9 scrumptious ideas:
*Click Images for Full Recipes
1. Rolo S'more Bites
[Source: CookingClassy.blogspot.ca]
2. Skor Bars
[Source:HealthontheRun.com]
3. Peanut Butter Cup Cups
[Source: KidsCooking.about.com]
4. Chocolate Crunchie Puddings
[Source: FoodLovers.co.nz]
5. Bounty Bar Cupcakes
[Source: CupofSugarPinchofSalt.com]
6. Twix Bars
[Source: AliceQFoodie.blogspot.ca]
7. Snickers Cheesecake
[Source: AllYou.com]
8. M&Ms and Kit Kat Cake
[Source: MyPassporttoStyle.blogspot.ca]
9. Coffee Crisp Cake
[Source: ButtercreamBarbie.com]
Father's Day is nearly here and restaurants around the country want to help you celebrate the special guest of honor!
It's less than a week until Father's Day - do you know what you're going to do to make this year special for your dad?
Looking to impress your dad this Father's Day? How about a beer-themed menu featuring delicious recipes all made with every man's...
Father's Day is just around the corner and Grimaldi's Pizzeria wants to help you spoil the guest of honor!
When Father's day rolls around it's hard to decipher what you can do for him that adds up to all his hard work he's done for the...
First and foremost, Happy Birthday, Wendy's! In honor of their 50th birthday, Wendy's is celebrating with the release of their...
Snickers chocolate bars are already delicious as they are. They're filled with nougat, luxurious caramel, crunchy peanuts, and...
You know them, you love them, you quietly whisper "melts in your mouth, not in your hands" as you tip your head back and toss...
Looking to make this Easter memorable for your kids? We have all the recipes you need to make this holiday season fun and...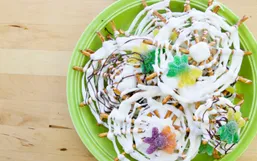 Not everyone can be a Pinterest-level chef when it comes to celebrations and holidays. But we can try!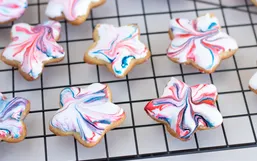 The Fourth of July is just around the corner and that means you're probably starting to plan your menu!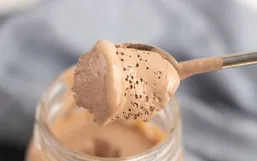 We love a good copycat recipe here at Forkly and this Wendy's chocolate frosty is no exception!