Bailey's Irish Cream anyone? So delicious. But also packed with sugar, which is a definite no-no when you're on the Keto diet. In fact, most alcoholic drinks and cocktails aren't keto-friendly. Welp! But Irish Cream Liqueur is a summer drink staple, whether it's in your coffee at the cottage, topped with marshmallows roasted around the campfire, or on ice on a hot afternoon. Not to leave Keto-dieters out, we created this super simple low-carb Creamy Keto Irish Cream Liqueur that you can easily make at home!
Looking for other keto-approved drinks? We've got you covered with these Low-Carb, Keto-Friendly Alcoholic Beverages!
Start by adding the heavy cream and sweetener to a small saucepan. We used monk fruit sweetener because, quite frankly, it's our favorite kind and has the best flavor. However, you can substitute your favorite and give that a try! Heat the mixture on medium heat, stirring constantly until the granules are completely dissolved.
Add the vanilla and almond extracts, cocoa powder, and instant coffee (we used Starbucks Via) to the pot. You might be tempted to skip the almond extract, but please don't! This is one of the ingredients that is critical to the overall flavor to make it a true copycat recipe.
Whisk until all of the ingredients are well combined and no lumps remain roughly 2-3 minutes. Then, take the pot off the heat and add the Irish whiskey, stirring to combine. It's important to wait to add the alcohol until you've pulled it off the heat as continuing to cook it will actually burn off the alcohol! Definitely not what we want here.
Transfer it to an airtight jar (large mason jars work well!) and put in the fridge to chill. Once chilled, it's ready to drink any way you like! Keto-dieters rejoice – we've saved your summer.
Ingredients
2 cups heavy cream
2/3 cup low carb sweetener
1 tsp instant espresso or coffee
1 tbsp cocoa powder
1 tsp almond extract
1 tsp vanilla extract
1 1/3 cups Irish whiskey
Equipment
Hot plate or stove
Small saucepan
Method
Add heavy cream and sweetener to a small saucepan and whisk until dissolved on medium heat, roughly 3 minutes.
Add vanilla and almond extracts, coffee, and cocoa powder and whisk until well combined and no lumps remain, about 2 minutes.
Remove from heat and add whiskey. Stir well to combine and transfer to an airtight container or jar for storage and to chill in the fridge.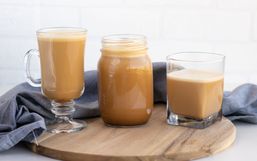 Bulletproof coffee is huge in the Keto Diet community, but it actually has benefits for everyone regardless of whether you're on a...
The whole pumpkin spiced thing has become a bit of a movement. There's pumpkin spiced everything now.
It's finally spring time, the birds are singing, the sun is shining and the temperature is rising, and we inch closer to beach...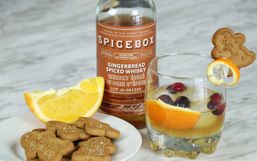 With the holidays comes seasonal flavors that will capture the essence of the season, and create warm holiday memories.
If there's one season that screams cocktails, it has to be summer...
We've all heard about wine pairings, and typically any restaurant server can recommend a nice glass of red or white wine to...
Summer is when chilled wines make their honorary debut back onto patios, backyards and poolsides everywhere.
Smoothies are such an easy way to get tons of nutrients into your system and eat on the go.
Most people who are diabetic understand the importance of maintaining a healthy diet.
Happy National Tequila Day Everyone! Can you believe that there's a National Food Holiday for tequila? We couldn't either!
Happy National Pina Colada Day Everyone! Today is a day to honor everyone's favorite island drink: The Pina Colada.
One of the best parts of summer for a lot of people out there is enjoying the berries and other fresh fruits the season brings to...