There's something about carbs that truly make my heart sing. Pasta dishes comfort the soul and that's part of what makes them so alluring. One of my all-time favorite pasta dishes is fettuccini alfredo. I love it, but it does require a bit of time and effort to make it from scratch. In result, I often leave it to the professionals and order it at a restaurant instead.
We were determined to find a way that makes this delicious meal easy and quick to prepare even on a busy weeknight! The perfect solution? Use your Instant Pot. Not only does this gadget allow this recipe to be quick and easy, but it transforms a laborious recipe into a one-pot meal. I don't know about you, but when dinner preparations require minimal effort and cleanup, that's a serious win in our books!
Want New Instant Pot Recipes and Content Delivered Straight To Your Inbox? Sign up for our Instant Pot Email Newsletter!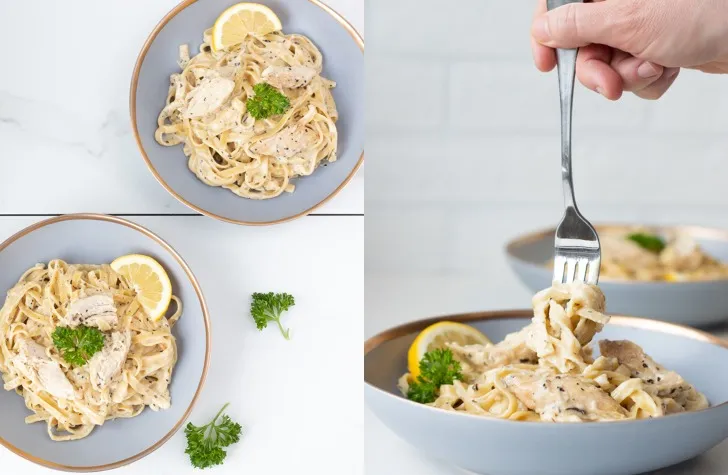 We chose to cook our fettuccini alfredo with chicken because it is easily accessible, budget-friendly, and will please even the pickiest of eaters. Our alfredo is creamy, garlicky and so delicious that you'll be digging in for seconds – we promise. One of the best parts of this dish is how it's delicious enough for a family meal but sophisticated enough to be a date night dinner. So whether you're planning to dine in for Valentine's Day or simply looking to treat your significant other make sure that our chicken fettuccini alfredo is on your menu! Whoever you share this dish with will surely be impressed with this gourmet meal.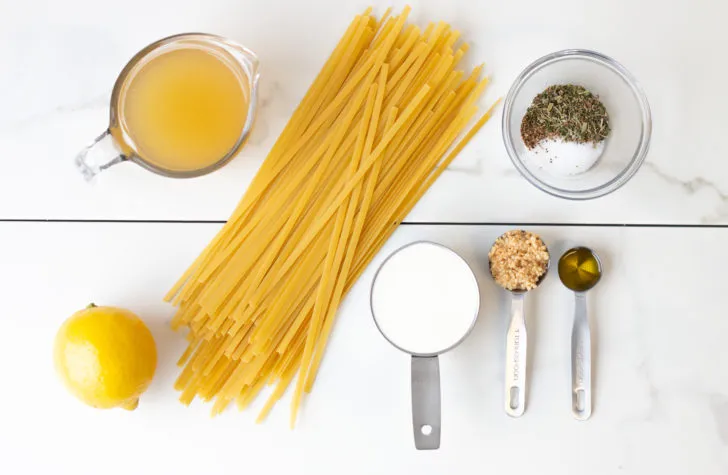 Perhaps you forget to take the chicken out of the freezer before leaving for work and are asking yourself – will this recipe still work? Why yes! We've created a step-by-step hack that will show you how to cook chicken from frozen using your Instant Pot. While this process will turn this meal into a two-step recipe and may require a bit more time, the result is well worth the time (and little bit of extra effort). For instructions on how to cook chicken from frozen in the Instant Pot, read HERE.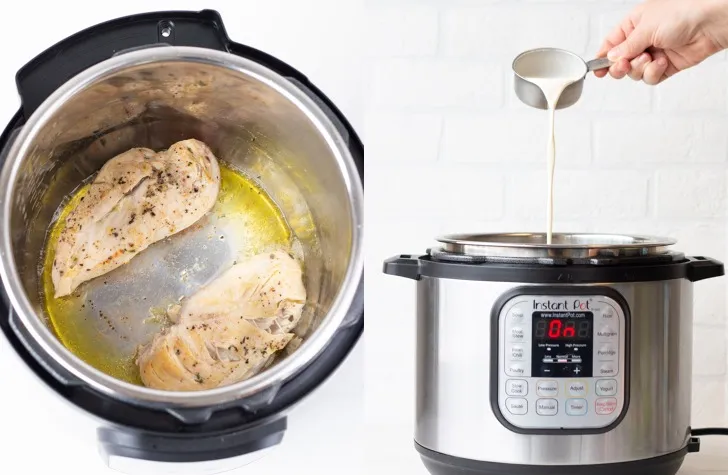 With our recipe, you'll experience cooking with the saute and the pressure cooking functions. It's important to remember that you should always add a liquid and scrape off any stuck on food in between using the saute and the pressure cooking functions. If you skip this step, you risk getting the burn notice! This recipe may require a few cooking steps, however, the overall cooking time is quite quick. From pot to table you'll be able to have this gourmet meal ready in less than 35 minutes!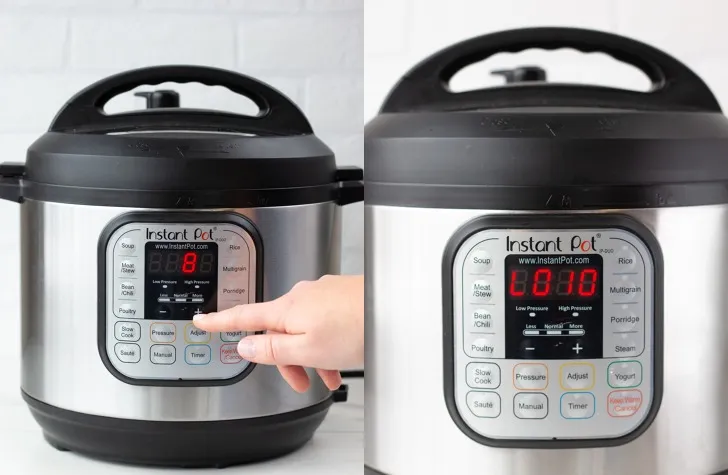 If you open your Instant Pot (after the pressure is released, of course) and the sauce is a little bit soupy, don't worry, this is normal! All you have to do is create a flour slurry by mixing some sauce from the pot and a tablespoon of all-purpose flour. The slurry will help thicken the sauce and you'll be left with the dreamiest homemade alfredo sauce ever! We left this dish in the office kitchen with our coworkers and came back to an empty pot and some very sad people who were hoping for seconds. For more delicious Instant Pot pasta recipes read HERE.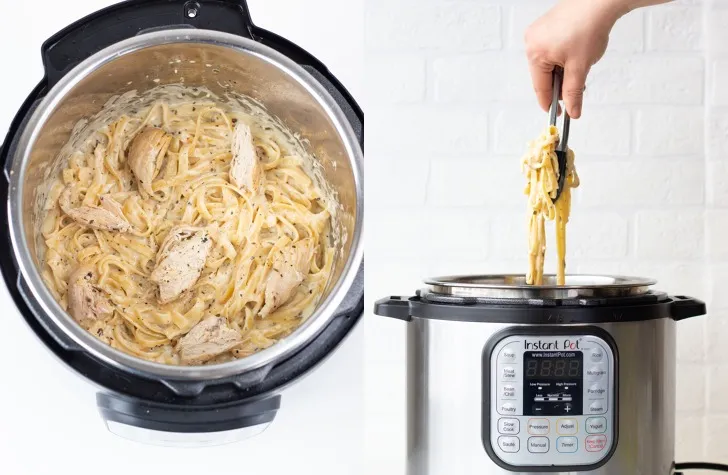 Ingredients
8 oz fettuccine noodles
2 boneless, skinless chicken breasts
1 tbsp minced garlic
2 tbsp olive oil
2 cups chicken stock
1 1/2 cup whipping cream
1 tbsp lemon juice
1 tbsp Italian seasoning
1/4 cup Parmesan cheese
Salt and pepper
Parsley, for garnish
Lemon wedges, for garnish
1 tbsp flour, for slurry (optional)
Method
Set to Saute mode and add 2 tbsp of oil. Season chicken breasts with salt and pepper and add to IP, searing each side for 2 minutes. Remove from pot and set aside.
If necessary, add additional oil to the pot. Add garlic and cook for about 1 minute, until fragrant.
Add cream and let simmer for 2-3 minutes, until slightly thickened. To prevent the burn notice, be sure to scrape the bottom for any stuck on food. Turn off Saute mode.
Add broth, lemon juice, and Italian seasoning and stir to combine. Break pasta in half and add to the Instant Pot. Gently stir pasta so that it's completely submerged and settles towards the sides of the IP. Lightly place the chicken back into the center of the pot, secure the lid, and seal the pressure valve.
Cook on Manual HIGH for 8 minutes. Once the cook time has elapsed, let the pressure release naturally for 10 minutes before quick releasing any remaining pressure (a natural release will keep the chicken from becoming tough).
Remove lid and remove chicken. Add parmesan cheese, salt, and pepper. Stir until the cheese is melted and well combined.
Optional: if the sauce is too thin, remove 1/2 cup of sauce from the pot and whisk with 1 tbsp of flour to create a slurry. Add back to the Instant Pot, set to Saute mode and continuously stir until sauce has thickened, about 2-3 minutes. Turn off Saute mode.
Slice chicken breasts and add back into the pot.
Top with fresh parsley, a lemon wedge and fresh juice (optional), and more cheese, if desired. Serve hot and enjoy!
Notes:
If you want to shave off a few calories from this recipe, replace the cream with milk.
If you don't enjoy the taste of garlic, you can reduce it to 1 tsp. However, the final result may not be as flavorful!
It took our 6-Quart Instant Pot Duo 8 minutes to come to pressure, but this will vary depending on the model and size of your Instant Pot.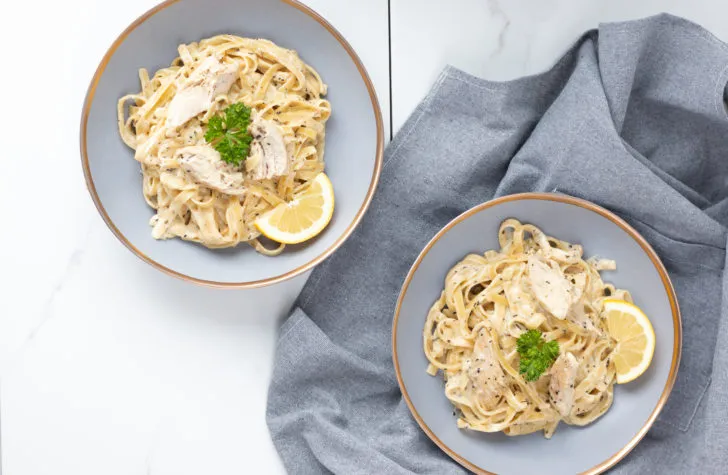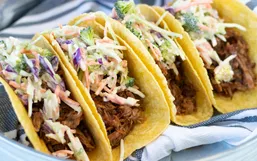 Taco Tuesday is one of my favorite nights of the week! It turns dinner time into a fiesta and it's something exciting for...
Parties happen all year round and instead of taking on the task of cooking for a crowd, make your next party a potluck party!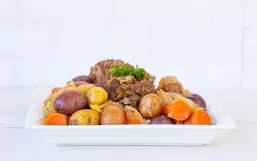 Roast beef is one of those meals that's an oldie but a goodie. If you have company coming over for supper - it doesn't matter who...
The 4th of July holiday indicates that summer is here. On this patriotic holiday friends and family gather together to play games,...
The season of fall is a favorite for many because it means crisp air, cozy layered clothing, and of course comforting meals.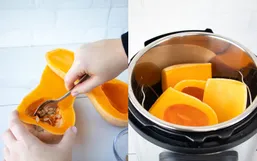 The holidays are a busy time of year, between hosting guests, planning a dinner, and catering to everyone's needs it can get...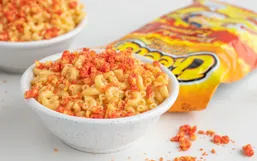 There is no comfort food like mac and cheese - the carbs and cheese are oh so delicious!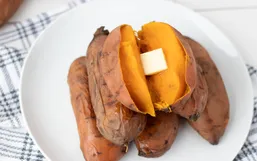 The thing about root vegetables is that they often take a lot of time to cook, especially in the oven.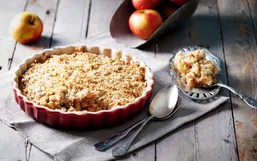 The holiday season is busy, between decorating for Christmas, hosting parties, buying and wrapping gifts it can all be...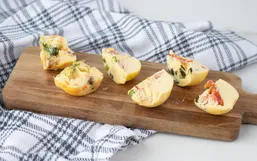 Breakfast is often the most rushed meal of the day. Sure, lunch is eaten while at your work desk and supper may be thrown...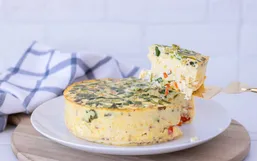 Leisurely weekends are my favorite because it's a chance to unwind and relax.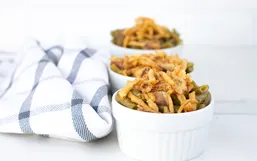 Do you love drool-worthy casseroles? Then get ready for a true treat!