When the Instant Pot first arrived into your home, you likely did what most of us did…let it sit there and suffer in a state of confusion and fear over trying this new gadget that everyone just swore you needed to own.
It's life-changing, they said.
It's the best thing ever, they said.
Yeah, well…show me why. 
Want New Instant Pot Recipes and Content Delivered Straight To Your Inbox? Sign up for our Instant Pot Email Newsletter!
Whether you're a seasoned Instant Pot user or brand new to the game – this recipe is one that's a must try, especially if you have kids in the house. Pasta nights are usually a go-to for most families. Foolproof, filling, and easy. So, what if we made it just a little bit easier for you? Like, a set it and forget it kind of pasta night? What if you didn't even have to boil water? What if you just set your Instant Pot on manual high pressure for 5 minutes…and walked away. 
These things are all a reality with this pizza-inspired pasta dish. Why pizza? Because it's the universal flavor of love. That, and kids rarely say no to pizza.
In just 15 minutes, you can have dinner on the table, with saucy pepperoni-induced smiles in no time.
If you're looking to discover more about your Instant Pot, read more in our article
If you're seeking more recipes to create with your Instant Pot, check out
OR – Grab an Instant Pot here, starting at $129 for an 8qt:  http://amzn.to/2vBkaIC

Alright, onto the recipe!!
Ingredients
1 cup Pizza Sauce
2 cups Crushed Tomatoes or Pasta Sauce
3 1/2 cups Water
1 lb Pasta (we used cavatappi/scoobi doo pasta)
1 cup Shredded Mozzerella, divided
1 lb Pepperoni slices, divided
1 tbsp Garlic, minced
1 tsp Italian Seasoning
Salt & Pepper, to taste
Method
Add your pizza sauce, pasta sauce, pasta, water, garlic, salt, pepper & Italian seasoning to the Instant Pot. Give it a stir, and lock the lid on, and set the vent to "seal".
Set the Instant Pot to manual high pressure for 5 minutes. It will take a few minutes for the Instant Pot to create pressure before the timer begins, so be patient!
Once the 5 minute timer is up, do a quick release by putting the seal on the top to "vent" and letting all the steam release.
Open up the Instant Pot lid, and add in half the cheese, and half the pepperoni. Stir to mix in. Then top the pasta with the rest of the cheese, and pepperoni and return the lid to the Instant Pot.
Let it sit (not cooking) to allow all the cheese to melt for 10 minutes.
Remove lid, and serve immediately!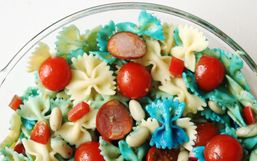 We fully recognize that pasta should probably never be dyed blue, with one exception - patriotism food!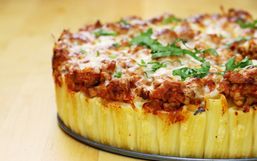 Forget traditional pasta casseroles! With the noodles standing upright, the sauce and cheese bake down into the pasta making each...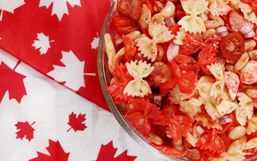 So you've volunteered yourself to bring a salad to your Canada Day festivities this weekend. Splendid!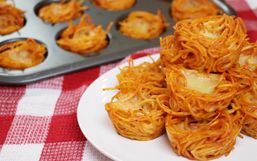 As a mother of 3, making dinners are often made with the intention of leftovers. Why? Well...lunches the next day!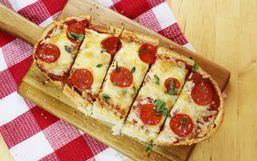 A couple years ago I was discussing with a friend what to make for dinner, and he said he was having "french bread pizza".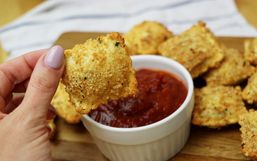 These baked crispy raviolis are like bite sized pasta casseroles you can serve at a party, or enjoy for dinner.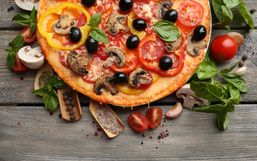 We all love pizza, but how much do we actually know about it? How long has pizza been around? How much pizza is eaten per second?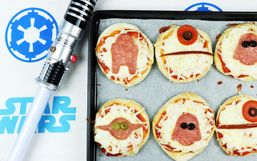 A long time ago, in a galaxy far, far away... Juuuust kidding! It's right now, and in. your. very. kitchen.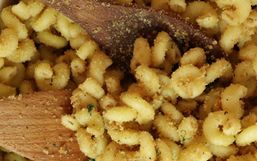 Garlic bread has long time been a best friend of pasta dinners.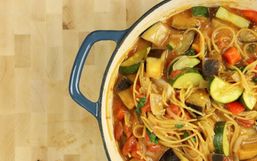 This was actually my first recipe attempt at making a pasta dinner, completely in one pot.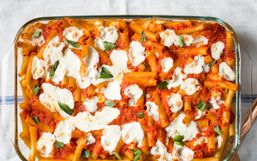 Be still my beating Italian heart... just kidding, I'm not Italian and you don't have to be either to enjoy this hearty...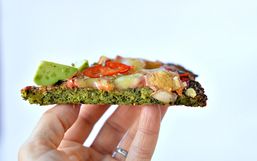 We often think about ways to up the health factor of our pizza toppings, but recently, people are taking a long hard look at...