Looking for delicious recipes to make your mom feel special this Mother's Day? You've come to the right place. The HalfHourMeals countdown to Mother's Day continues today with 7 delicious dessert recipes that will put a smile on your mom's face.
Almost as important as the dessert itself is the presentation you choose. Make your dish extra fancy by putting traditional desserts in glasses or fancy bowls like some of the recipes below.
Here are 7 delicious dessert recipes to consider for your Mother's Day menu this year:
1. Fruit and White Chocolate Fondue
[Source: BBCGoodFood.com]
2. Chocolate Mousse in a Glass
[Source: PastryPal.com]
3. Tuile Cookies
[Source: VeganYumYum.com]
4. Ice Cream in a Fancy Waffle Cup
[Source: GlutenFreeGood.blogspot.ca]
5. Peach Pie
[Source: TasteofHome.com]
6. Churros Con Chocolate
[Source: HalfHourMeals.com]
7. Chocolate Eclairs 
[Source: DinnerwithJulie.com]
Moms are wearing more hats this year especially with having everyone home more than usual.
Mother's Day is just around the bend and Forkly is here to help make sure you have everything you need to make your mom feel...
Mother's Day is quickly approaching and the HalfHourMeals countdown to Mother's Day is in full force today with 7 cool cupcake...
Itching for a trip to Mexico? Even if it's not in the cards right now, you can still don a sombrero and get cooking one of our...
Mother's day is just around the corner and Bruegger's Bagels is helping you make the day special for mom!
Moms definitely deserve to be spoiled more than one day but when the day all about them comes around we have to make it extra...
Mother's Day is just around the corner and Red Lobster wants to help you spoil mom!
Mothers Day is the one day of the year when you can shower your momma with some serious love and spoil her like crazy!
Toothpicks are generally made of wood, plastic or metal and were originally used to remove food from your teeth after a meal.
Apple picking season is upon us so be sure to make the best of this fun fall activity.
One of the best things about Christmas (aside from spending time with those you love of course) is being able to dig into...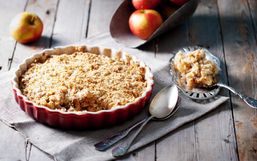 The holiday season is busy, between decorating for Christmas, hosting parties, buying and wrapping gifts it can all be...