Watching food go to waste is the worst but unfortunately, it happens all too often. Whether you've become tired of your leftovers or "accidentally" push it to the back of the fridge only to find a furry green bowl weeks later, it still adds up to wasted money. So we're going to help you utilize your leftovers in a way that will make you actually want to dig into them a second time!
The next time you're hanging onto leftover chicken be sure to try one or a few of these recipes! We're sharing how one simple leftover ingredient, can be incorporated into 12 new and improved dinners! Best of all, these are all picky-eater approved meals.
1. Easy Weeknight Leftover Chicken Quesadillas
Quesadillas are seriously underrated. They're quick, easy, and will please even the pickiest of eaters! Our recipe takes the leftover chicken and turns it into a delicious and fun dinner for the whole family.
Simply toss your leftover chicken onto a flour tortilla along with salsa and cheese and grill with a panini press. Don't have a panini press? No problem! Simply cook in a frying pan on the stove top!
http://www.forkly.com/recipes/easy-weeknight-leftover-chicken-quesadillas/ PHOTOS AND RECIPE HERE: FORKLY
2. Chicken Salad with Avocado and Bacon
Chicken salad just got so much more fun! You don't need mayo for this recipe because avocados provide all the creaminess you need!
In addition to chicken and avocados, this chicken salad is loaded with diced celery, cooked bacon, and loads of delicious seasonings. Enjoy this chicken salad on bread, in a wrap, or keep it low-carb and toss the salad into a lettuce cup!
https://jenniferbanz.com/keto-chicken-salad PHOTOS AND RECIPE HERE: JENNIFER BANZ
3. Leftover Chicken Enchiladas
Turn dinner time into a fiesta and serve the whole family delicious enchiladas. The best part is that because this recipe requires leftover chicken, it comes together even more quickly than a traditional recipe!
These enchiladas are simple and only require 6 ingredients. The tortillas are stuffed with a delicious mixture of chicken, pepper, onion, cheese and enchilada sauce and are topped with more enchilada sauce and cheese! Who knew a simple dinner could pack a ton of flavor!
https://theschmidtywife.com/leftover-chicken-enchiladas/ PHOTOS AND RECIPE HERE: THE SCHMIDTY WIFE
4. Southwestern Slowcooker Leftover Rotisserie Chicken Dinner
Hanging on to leftover rotisserie chicken? Throw it in the slow cooker with a few additional ingredients and create a whole new dinner that will please the entire family!
Slow cooker meals are seriously the best because you essentially toss a bunch of ingredients together and then walk away. Hours later you return to a delicious homecooked meal. This southwestern dinner is made with several protein-rich ingredients such as chicken, quinoa, and black beans. Enjoy the meal on its own or toss the ingredients into a tortilla!
http://www.forkly.com/recipes/southwestern-slowcooker-leftover-rotisserie-chicken-dinner/ PHOTOS AND RECIPE HERE: FORKLY
5. Doritos Casserole with Chicken
Tell your kids that there are Doritos in their dinner and watch them come running to the kitchen table! This crave-worthy dinner combines leftover chicken with chive whipped cream cheese, cream of chicken soup, green onions, and canned corn.
Finish the casserole by adding a layer of crushed Doritos and loads of ooey-gooey cheese. This casserole is bound to be requested again and again!
https://www.thisisnotdietfood.com/doritos-casserole-with-chicken/ PHOTOS AND RECIPE HERE: THIS IS NOT DIET FOOD
6. Chicken Stuffing Bake
The next time you're craving a Thanksgiving meal whip together this quick and easy chicken stuffing bake! This simple recipe is made with leftover chicken, a box of stuffing, broccoli, and a few other enticing ingredients.
A simple dinner like this only requires 10 minutes to prepare. Aside from the prep time, the meal will need to cook for about 35 minutes, however, all in all, it still comes together quickly!
https://www.myorganizedchaos.net/2018/09/chicken-stuffing-bake PHOTOS AND RECIPE HERE: MY ORGANIZED CHAOS
7. Easy Skillet Pot Pie
Have a craving for something truly comforting? The answer is undoubtfully a savory pot pie! Put your leftover chicken to good use and prepare this easy skillet pot pie.
With a homemade pie crust and loads of savory ingredients, this pot pie will be tasting as if it came straight from grandma's kitchen! Although, if you're really pinched for time, you could opt out of the homemade pie crust, and purchase a store-bought one instead.
https://sallysbakingaddiction.com/skillet-pot-pie/ PHOTOS AND RECIPE HERE: SALLY'S BAKING ADDICTION
8. Jalapeno Popper Chicken Casserole
Your favorite party appetizer is served for dinner! Everyone at the dinner table will go crazy for this creamy jalapeno popper chicken casserole.
Jalapeno peppers are tossed with shredded chicken, heavy cream, and loads of cheese! As a bonus this meal is gluten-free, and keto diet friendly.
https://www.eatwell101.com/jalapeno-chicken-casserole-recipe?fbclid=IwAR2KB2PhnGOYtB-pw-6IXDFSLzb2ft3fivJa-IDLV1Ix2Vm_MXStmMjBHNU PHOTOS AND RECIPE HERE: EATWELL 101
9. Buffalo Chicken Calzone
Kids love pizza pockets, heck, adults love them too! However, this recipe shows how you can transform your favorite wing flavor into a delicious calzone fit for lunch or dinner.
You can make this recipe as simple or as complicated as you like. If you enjoy a challenge, prepare your own homemade pizza dough, if you need this meal to be quick and easy then purchase store-bought pizza dough – your choice!
https://thepuretaste.com/buffalo-rotisserie-chicken-calzone/ PHOTOS AND RECIPE HERE: THE PURE TASTE
10. Chicken Parmesan Casserole
Finally a quick and easy chicken parmesan dinner! This delicious recipe comes together in just 30 minutes!
Leftover chicken is topped with marinara sauce, cheese, and panko bread crumbs. This lovely casserole would be delicious on its own, however, it also serves well over a bed of pasta!
https://omgchocolatedesserts.com/chicken-parmesan-casserole/ PHOTOS AND RECIPE HERE: OH MY GOODNESS CHOCOLATE DESSERTS
11. Pesto Mozzarella Chicken Sliders
Pesto mozzarella chicken sliders will be your new favorite lunch or dinner! This easy 5-ingredient recipe comes together quickly and could even make an excellent party appetizer.
Basil pesto, mozzarella cheese, leftover chicken, and mayo are all sandwiched into 18 slider buns. Toss the sliders in the oven and once the cheese has melted to the perfect ooey-gooey consistency, you'll be ready to eat!
https://www.healthylifes.live/2018/12/the-best-pesto-mozzarella-chicken.html?m=1 PHOTOS AND RECIPE HERE: HEALTHY LIFES
12. Chicken Tetrazzini
Turn your boring leftover chicken into an insanely delicious chicken tetrazzini dinner! This comforting meal is loaded with cheese and creamy goodness.
If you have leftover pasta as well as a leftover chicken this dinner will come together even more quickly. However, if you don't, no worries simply cook the pasta on the stove-top and while you wait, combine the remaining ingredients. Then finish the dish by baking it in the oven.
https://lilluna.com/chicken-tetrazzini/ PHOTOS AND RECIPE HERE: LIL' LUNA
Tomato sauce is used in so many different glorious recipes! It's can be a delicious sauce for pasta, pizza, and can be secretly...
Encouraging your kids to eat healthy can be exhausting. With so many interesting and cool packaged products on the shelves, it's...
A time and cost saving way of cooking is to reuse your leftovers from previous days.
After the Easter season is finished, you can find ham roasts for very reasonable prices in the grocery stores.
There are several different types of broth such as vegetable broth, chicken, fish, and beef.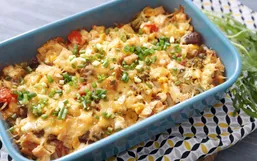 After all the hours and hard work you put into Thanksgiving dinner, it's eaten within half an hour and you're left with a ton of...
Come the season of holiday feasts stuffing is a turkey's sidekick.
The highlight of every Thanksgiving dinner is the giant turkey. This 14+ pound bird is one massive main dish.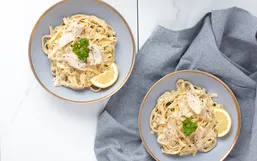 There's something about carbs that truly make my heart sing. Pasta dishes comfort the soul and that's part of what makes them so...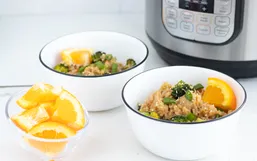 Get ready friends, it's time to enjoy some delicious takeout made at home!
We all crave delicious fried food from time to time. However, if those cravings become a regular habit, then those fried foods can...
Encouraging your kids to eat more than noodles and sauce can be difficult.