There is perhaps nothing quite as easy to whip up on a busy weeknight as Hamburger Helper. It's quick and inexpensive to make, which means it makes an appearance in kitchens around North America perhaps more frequently then we'd like to admit! But you can clean up the ingredients and make it far tastier by creating it from scratch in your Instant Pot!
Want New Instant Pot Recipes and Content Delivered Straight To Your Inbox? Sign up for our Instant Pot Email Newsletter!
You begin the recipe with the Saute function to cook up the onions, garlic, and ground beef. Brown the ground beef for roughly 5 minutes or until just barely cooked before draining and discarding any excess fat. If you can, opt for extra lean ground beef to reduce the fat in this recipe or sub in ground turkey for a leaner dinner.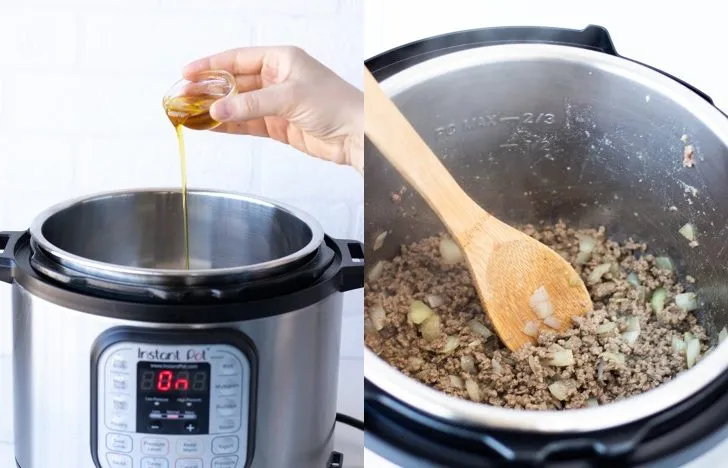 After cooking the meat, add some of the broth and use a spatula to scrape the bottom of the pot to release any stuck on food. This helps avoid the Burn notice when you pressure cook the meal later on! Add the remaining broth, cream of mushroom soup, Worcestershire sauce, and salt and pepper and give the mixture a gentle stir. Lightly pour the egg noodles into the pot and carefully move them around (without stirring) to make sure the majority of them are at least partially submerged in the liquid. If you stir, the pasta is more likely to fall to the bottom of the pot and become stuck during pressure cooking, which will likely lead to the Burn notice, turning this quick weeknight meal into more of a hassle.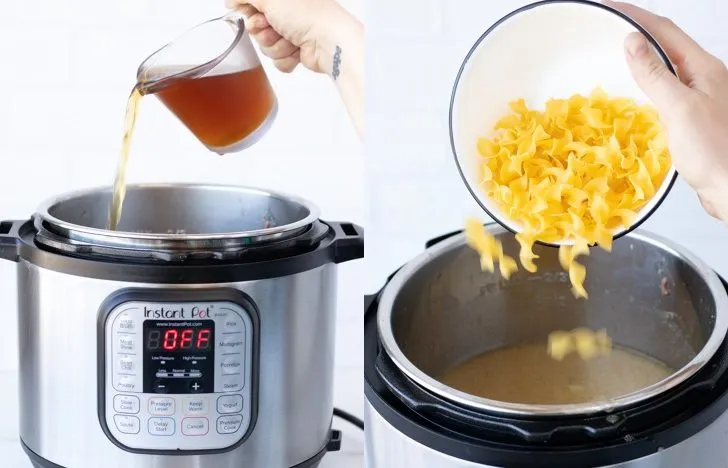 Lid the pot, set the valve to sealing, and cook the meal on Pressure Cook or Manual (depending in whether you have an older or newer model) HIGH for 6 minutes. Yup – just 6 minutes and dinner is ready! Once the cook time has elapsed, quick release the pressure.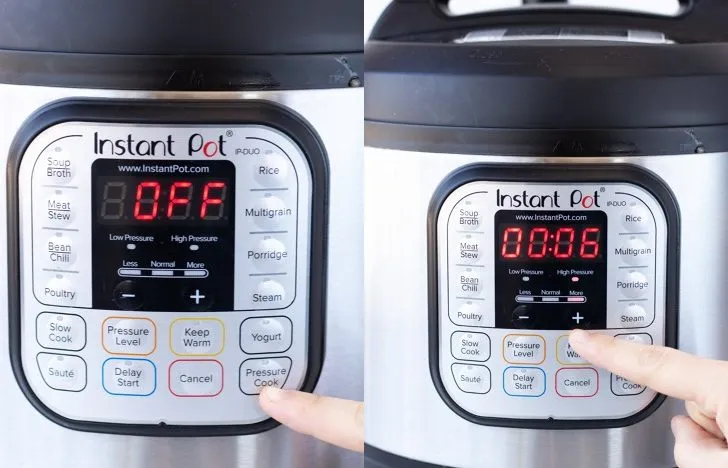 The mixture may seem a little soupy when you open the pot, but add the grated cheese and sour cream and stir until well combined. At this point, it should have thickened slightly and closely resemble Hamburger Helper – a pasta dish with lots of sauce. If the recipe is still too soupy for your liking, turn on Saute and in a separate bowl whisk together 1 cup of sauce from the pot and 1-2 tbsp of cornstarch or all-purpose flour. Add back into the pot and stir continuously until the sauce has thickened, approximately 3-5 minutes. Turn off Saute mode.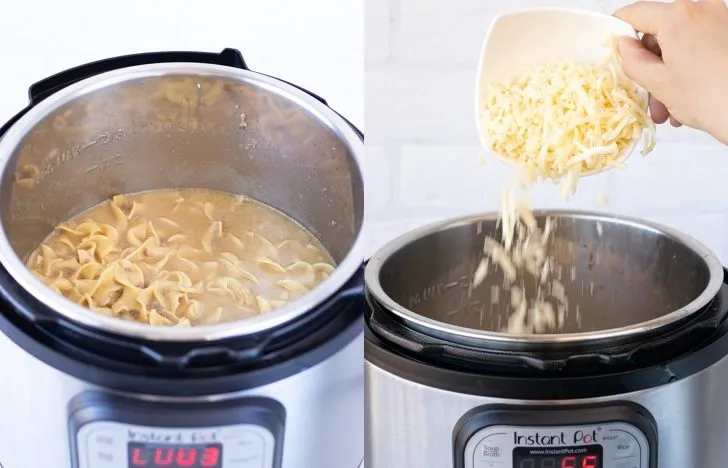 Voila! Your dinner is ready so you can eat quickly and get to the busyness of life! Serve hot topped with more cheese, parsley, or fresh black pepper. Leftovers can be cooled completely at room temperature and kept in an airtight container in the fridge for up to one week. Enjoy!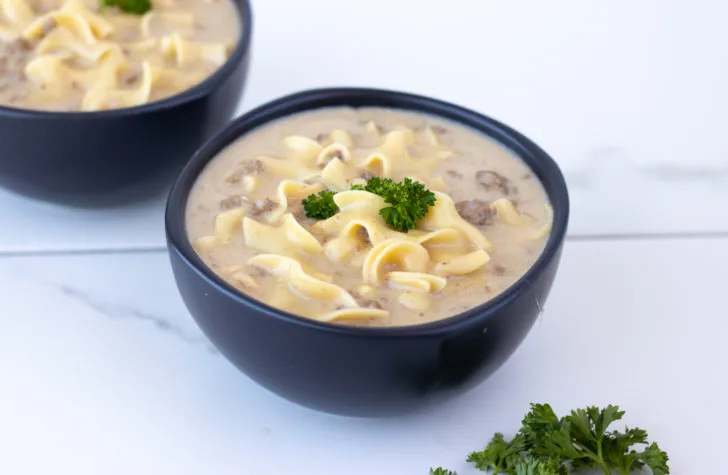 Ingredients
Olive oil
1 small yellow onion, diced
1 tbsp garlic, minced
1 lb ground beef
Salt and pepper, to taste
1 small can cream of mushroom soup (284 mL)
1 tbsp Worcestershire sauce
3 cups beef broth
3 cups uncooked egg noodles
½ cup sour cream
1 cup mozzarella cheese, grated
Method
Turn Instant Pot to Saute mode. Once hot, add oil, onion, garlic, and ground beef. Once browned, (roughly 5 minutes) turn off Saute mode.
Add broth and stir, releasing any stuck on food from the bottom of the pot. Add Worcestershire, soup, salt, and pepper. Stir gently.
Add pasta on top, but do not stir. If necessary, light tap the pasta down into the liquid until mostly submerged.
Lid the pot, close valve to sealing, and cook on Manual/Pressure Cook HIGH for 6 minutes.
Once cook time has elapsed, quick release the pressure. Remove the lid and add in sour cream and cheese, stirring until both are melted in. Serve hot!
Notes
Our 6-quart Instant Pot Duo took 15 minutes to come to pressure, but the time will vary depending on what model and size you're using.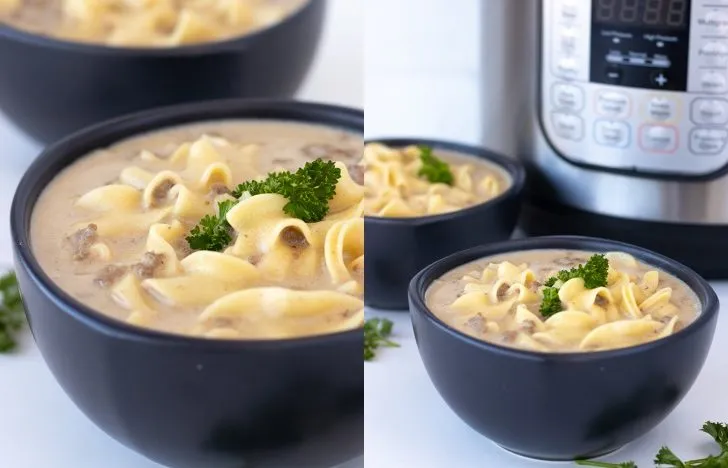 While experimenting with the Instant Pot I quickly discovered that it can not only cook a quick and easy weeknight meal but it can...
Everyone and their besties have an Instant Pot pressure cooker these days, and if you don't have one yet, you really need to get...
Parties happen all year round and instead of taking on the task of cooking for a crowd, make your next party a potluck party!
I love Easter because it's the first holiday that really signifies that spring is here!
The 4th of July holiday indicates that summer is here. On this patriotic holiday friends and family gather together to play games,...
The season of fall is a favorite for many because it means crisp air, cozy layered clothing, and of course comforting meals.
Quick and easy dinners are often a goal for so many, but that doesn't always mean it's healthy, too.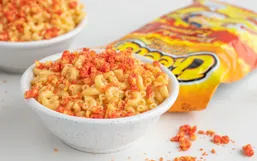 There is no comfort food like mac and cheese - the carbs and cheese are oh so delicious!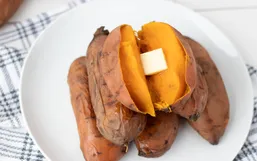 The thing about root vegetables is that they often take a lot of time to cook, especially in the oven.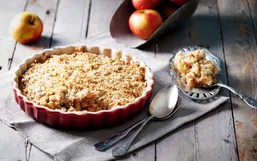 The holiday season is busy, between decorating for Christmas, hosting parties, buying and wrapping gifts it can all be...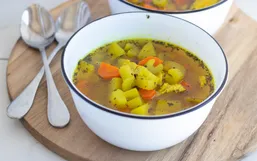 It seems like everybody is sick this Spring. People are dropping like flies!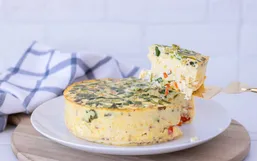 Leisurely weekends are my favorite because it's a chance to unwind and relax.