Today marks Veteran's Day (in the U.S.) and Remembrance Day (in Canada). However, on November 11 in addition to showing gratitude to those who have served and are currently serving to protect the freedoms and fortunes we enjoy in both great countries, you can be extra thankful if one of those freedoms you enjoy comes in two scoops of ice-cream topped with whipped cream, hot fudge, and a cherry on top…because today is also National Sundae Day!
National Sundae Day is celebrated on November 11 across the United States. With four U.S. cities staking claim to be the birthplace of the sundae—Ithaca, New York; Two Rivers, Wisconsin; Plainfield, Illinois, and Evanston, Illinois—the proof is, how do you say, still as sticky as caramel sauce, with the true origin still unknown. However, you can show thanks today by throwing an ice cream social for your neighborhood veterans because nothing says gratitude like an array of sweet ice cream flavors topped with delectables like these…
1. Caramel Apple Sundae
Tall sundae bowls overflowing with warm, caramelized, cinnamon-spiced apples as the mixture slowly melts into two gracious scoops of cinnamon-flavored ice cream topped with a mouth-watering pecan-oat crumble. Top with whipped cream and a cherry if you so desire…but of course you do!
2.Peppermint Hot Fudge Sundaes
Talk about a breath of fresh air! This cool Peppermint Hot Fudge Sundae will whisk your breath away, leaving you awed by the power of tongue-tingling peppermint extract, decadent hot fudge sauce, crushed peppermint candy, velvety chocolate chips, and creamy vanilla ice cream.
3. Strawberries Romanoff Sundaes
You might have bade farewell to strawberry season until next summer. However, you can recreate the sweet, juicy memories with this Strawberries Romanoff Sundae—featuring fresh muddled strawberry sauce, sugar, a hint of fresh mint springs, and real vanilla bean ice cream.
4. Hot Date Sundae
You won't have eyes for anyone besides this super Hot Date Sundae on date night! But your date won't mind if you share this oozy-gooey dessert bowl filled to the brim with sliced banana, warm Medjool dates, chopped walnuts, warmed chunks of banana bread, 2 heaping scoops of banana swirl ice cream, and a gracious dollop of whipped cream with sweet rum (or vanilla extract) drizzled on top.
5. The Ultimate Brownie Sundae
This sinful fudge brownie-based sundae might be meant for sharing, but believe me, you will want to keep this bowl all to yourself. Plunge your spoon into 3 scoops of vanilla, chocolate, and coffee-infused ice creams drizzled in 3 unforgettable sauces—marshmallow, warm chocolate fudge, and red berry—atop a warm ultimate fudge brownie. I'm not judging, I'd do the same thing.
6. Peanut Butter Sundae
There's no denying that peanut butter and chocolate go together forever! And if you happen to be nuts for peanut butter and chocolate, this delicious roasted peanut, chocolate, and dark chocolate concoction will satisfy your dream dessert cravings…and then some. Tap into your inner child (regardless of what age you are) and use your choice of smooth or chunky peanut butter, and don't forget the crushed peanuts!
7. Malted & Salted Caramel-Mango Sundaes
8. Chocolate + Popcorn Sundae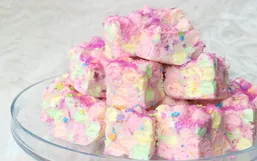 If you've spent any time on the internet at all lately, you may have noticed the growing obsession with rainbows, and pastels and...
Ice cream cakes are absolutely to DIE for. Have you heard of ice cream pies though?
Peach season is the best season! It's such a sweet and juicy fruit that is perfect for a day at the beach or in the place of a...
Marshmallows are often a symbol of our childhood in the summer. Roasting marshmallows over a bonfire with friends and family, then...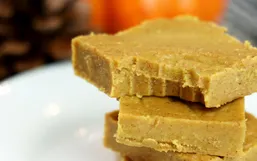 When I was a kid, fudge was something that so rich and decadent it came around maybe once a year.
When we crave chocolate, rarely do our minds first go to white chocolate. Why is that?
Have you offered to bring a dessert to a dinner party or family gathering before and then realized a few hours before the get...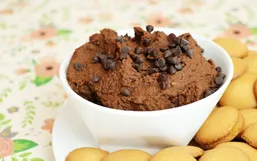 Hummus has forever been a protein-rich dip for your veggies and chips, a spread on your greek wraps and much more.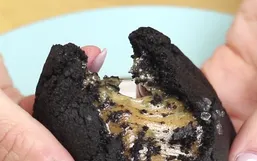 So another year has passed and your little trick or treaters have come home with a sack full of candy, and right at the bottom is...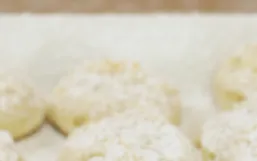 There's something incredibly heartwarming when baking cookies, especially when they are easy to make, and come out perfectly.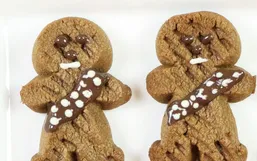 Okay so we cheated a little bit with this recipe and used pre-made AND pre-cut gingerbread boy cookie dough.
When it comes to brownies, it's rare to find someone that can resist them.