We all have those cravings we wish we didn't have. When you're sitting at your desk and all you can think about eating for lunch is a piece of cheesecake. Or when you finish a scrumptious meal and want to tuck into a tall piece of chocolate cake. Dessert doesn't always have to be a mental battle of doing the right thing! Satisfy your sweet tooth with some decadent desserts that spare you the guilt and fill your belly with sweetness.
1. Raspberry Cheesecake Bars
Cheesecake can be a major source of guilt when it comes to dessert time. Don't worry though, we have your back! This cheesecake bar will satisfy your sweet tooth and fill your body with some delicious fruit.
http://amyshealthybaking.com/blog/2015/05/14/skinny-raspberry-cheesecake-bars/ Photos By: Amys Healthy Baking
2. Coconut Oil Fat Bombs
These mini desserts make an excellent snack to serve alongside any other dessert or to pack in your lunch for work. They are packed with lots of good fats for your body and will give you energy to get through that long dinner party you are hosting on Friday night.
http://blog.paleohacks.com/coconut-oil-fat-bombs/ Photos By: Paleo Hacks
3. Angel Food Cupcakes
This is almost too good to be true – almost angelic! Use a regular angel's food cake mix and whip these extremely low calorie babies up last minute for a light dessert.
http://www.eatingonadime.com/angel-food-cupcakes/ Photos By: Eating On A Dime
4. Brownies
…and there's only 4 ingredients. Eating brownies doesn't always have to mean filling up on a calorie dense dessert. With this recipe, you'll be able to chow down on your favorite treat and even go back for seconds!
http://thebigmansworld.com/2015/10/28/four-ingredient-flourless-protein-brownies/ Photos By: The Big Mans World
5. Chocolate Mousse
Here's the secret that no one in your family needs to know: It's creamy because of a little thing called Avocado. Yes, that's right, you are going to fool your entire family into thinking they are eating a milk based product, when really, it's avocado! Good luck and let us know if anyone notices a difference!
http://www.wellplated.com/avocado-chocolate-mousse/ Photos By: Well Plated
6. Banana Cake with Cream Cheese Frosting
Whether you're serving this as a snack or as a dessert, Banana Cake always makes your guests smile. Leave off the icing for a casual snack and add it on to dress it up for a special occasion!
http://www.runningwithspoons.com/2016/12/11/healthy-banana-cake/ Photos By: Running With Spoons
7. Cinnamon Roll Oatmeal Cookies
When I eat cinnamon rolls, the point isn't to look at the calories. But sometimes I do, and then I never buy the Pillsbury "Cinnabon" buns ever again. And I'm sad about it. But with these mouth watering Cinnamon Roll Oatmeal Cookies, I think I've found a great alternative.
http://amyshealthybaking.com/blog/2016/04/19/cinnamon-roll-oatmeal-cookies/?utm_source=feed&utm_campaign=rss-mo-more&utm_medium=rss Photos By: Amys Healthy Baking
8. Apple Nachos
How easy is this?! This is the kind of recipe that we all love because it's a grab-anything-in-your-cupboard kind of delight. Stun your family with this fun and healthy dessert/snack that is doused with all that is good in this world. To avoid peanuts, use almond or soy butter. I promise it won't taste identical but it will do the trick.
http://www.trialandeater.com/apple-nachos-with-peanut-butter-chocolate/ Photos By: Trial and Eater
9. No Bake Raspberry Chocolate Tart
Notice the prep time: 12 Minutes! Can you believe that? This tart belongs in a museum and on your plate! You don't always need a special occasion to create a delectable dessert – celebrate your day with this easy to prep and serve treat.
http://www.bakerita.com/no-bake-raspberry-chocolate-tart-paleo-vegan-gf/ Photos By: Bakerita
10. Granola Fruit Tart with Yogurt
Breakfast for Dessert or Dessert for Breakfast. It's versatile, healthy and colorful. Decorate with your favorite fruits and flavor with yogurt. You can even make it look more exotic by adding fruits such as passionfruit, dragonfruit and papaya.
http://www.jessicagavin.com/breakfast-granola-fruit-tart-yogurt/ Photos By: Jessica Gavin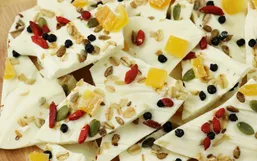 Looking for a healthier version of a chocolate bark? With bulk stores now selling greek yogurt chips, we decided to try our hands...
Ice cream cakes are absolutely to DIE for. Have you heard of ice cream pies though?
Peach season is the best season! It's such a sweet and juicy fruit that is perfect for a day at the beach or in the place of a...
Marshmallows are often a symbol of our childhood in the summer. Roasting marshmallows over a bonfire with friends and family, then...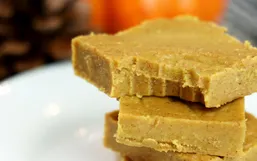 When I was a kid, fudge was something that so rich and decadent it came around maybe once a year.
When we crave chocolate, rarely do our minds first go to white chocolate. Why is that?
Have you offered to bring a dessert to a dinner party or family gathering before and then realized a few hours before the get...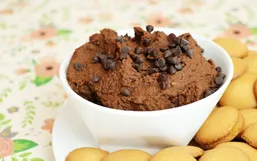 Hummus has forever been a protein-rich dip for your veggies and chips, a spread on your greek wraps and much more.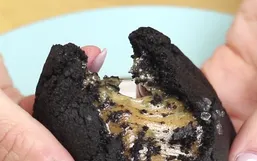 So another year has passed and your little trick or treaters have come home with a sack full of candy, and right at the bottom is...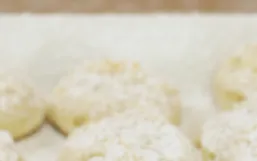 There's something incredibly heartwarming when baking cookies, especially when they are easy to make, and come out perfectly.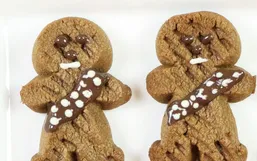 Okay so we cheated a little bit with this recipe and used pre-made AND pre-cut gingerbread boy cookie dough.
When it comes to brownies, it's rare to find someone that can resist them.