On a hot summer day, the best dessert is an amazing sundae bar. You can stop in at Menchie's or whatever your local froyo/ ice cream location is, but that only works when you're out and about. Instead of heading out for ice cream, create your own! You can fill it with your favorite ice cream flavors, fun toppings and decorate with some seriously Pinterest-worthy decorations. A sundae bar is also the perfect addition to a party when you are serving dessert to a large number of people. Instead of having to prep everyone's dessert, get them to have fun making their own!
1. Sweet Decorations
Set up your ice cream bar with all sorts of lovely little decorations – especially these amazingly easy ice cream cone balloons.
http://karaspartyideas.com/2016/05/ice-cream-parlor-birthday.html Photos By: Kara's Party Ideas
2. Ice Cream
Whether you make your own ice cream or buy it from the store, display in a metal bins with ice.
http://www.thetomkatstudio.com/2016/06/icecreamsandwichbar/ Photos and Recipe By: The TomKat Studio
3. Chocolate
Feature your guests' favorite chocolate bars at the sundae bar to get some major brownie points.
http://www.momsandmunchkins.ca/2016/06/01/ice-cream-buffet-ideas/#_a5y_p=5871867 Photos by: Moms and Munchkins
4. Candy
Hit up bulk barn for some fantastic candy toppings. Mini marshmallows are my favorite!
http://www.bitememore.com/read/27/bite-me-mores-best-ice-cream-sundae-recipes Photos and Recipe By: Bite Me More
5. Sauces
Avoid a mess with these sauce pumps!
https://www.tlbc.com.au/blog Photo By: TLBC
6. Fruit
Add some color and vitamins to your ice cream bar with some fresh fruit!
http://pizzazzerie.com/featured/two-tti-fruity-birthday-party/ Photos and Recipe By: Pizzazzerie
7. Desserts on Desserts
Crumbling cookies and brownies on top of the sundae bar is the perfect sweet topping!
http://www.thetomkatstudio.com/2016/06/icecreamsandwichbar/ Photos and Recipe By: The TomKat Studio
8. Sprinkles
Sprinkles can never be forgotten, it's what makes ice cream sundaes worth photographing!
https://theviewfromgreatisland.com/how-to-make-sprinkled-ice-cream-cones/ Photos and Recipe By: The View From Great Island
9. Cute Cups
Add your ice cream to these adorable cups from Etsy!
https://www.etsy.com/ca/listing/171384108/pastel-rainbow-stripe-ice-cream-cups?utm_source=Pinterest&utm_medium=PageTools&utm_campaign=Share Photo and Product By: TheBakersConfections on Etsy
10. BONUS: Magic Shell Sauce
If you're wanting to really impress your guests, make this simple, two ingredient chocolate shell sauce. YUM!
https://www.gimmesomeoven.com/homemade-magic-shell/ Photos and Recipe By: Gimme Some Oven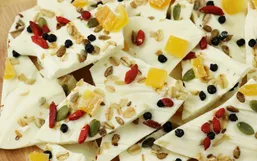 Looking for a healthier version of a chocolate bark? With bulk stores now selling greek yogurt chips, we decided to try our hands...
Ice cream cakes are absolutely to DIE for. Have you heard of ice cream pies though?
Peach season is the best season! It's such a sweet and juicy fruit that is perfect for a day at the beach or in the place of a...
Marshmallows are often a symbol of our childhood in the summer. Roasting marshmallows over a bonfire with friends and family, then...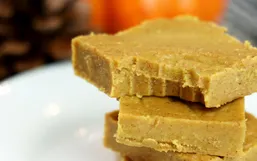 When I was a kid, fudge was something that so rich and decadent it came around maybe once a year.
When we crave chocolate, rarely do our minds first go to white chocolate. Why is that?
Have you offered to bring a dessert to a dinner party or family gathering before and then realized a few hours before the get...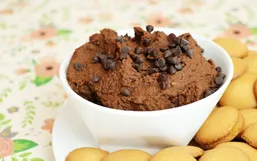 Hummus has forever been a protein-rich dip for your veggies and chips, a spread on your greek wraps and much more.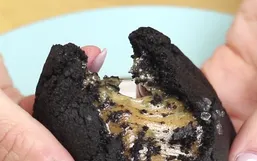 So another year has passed and your little trick or treaters have come home with a sack full of candy, and right at the bottom is...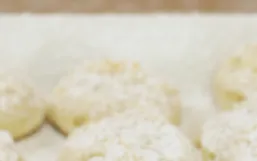 There's something incredibly heartwarming when baking cookies, especially when they are easy to make, and come out perfectly.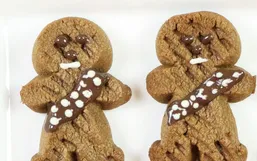 Okay so we cheated a little bit with this recipe and used pre-made AND pre-cut gingerbread boy cookie dough.
When it comes to brownies, it's rare to find someone that can resist them.