Have you offered to bring a dessert to a dinner party or family gathering before and then realized a few hours before the get together that you completely forgot to make that home made pie you swore you were going to attempt when you signed up for dessert? It's definitely happened to me! So what do you do with just a few hours to spare? Dessert can be difficult to transport in a car and is often a little complicated to make. With the help of a casserole dish, you can actually whip up some mouth watering desserts for all your friends and family very quickly without using too many ingredients. Once you start making dessert casseroles, you will never go back! They're easy, creative and you can always create your very own casserole as well.
1. Best Mint Chocolate Lasagna
Are your dinner guests fans of mint chocolate ice cream? This dessert has a similar flavor which results in both a refreshing and sweet taste that doesn't forget your love for chocolate.
https://inspiringcooks.com/recipe/no-bake-mint-chocolate-lasagna-dessert-recipe/ Photos and Recipe By: Inspiring Cooks
2. Unicorn Poop Rainbow Dessert
Needing to make a dessert for the kids? This Unicorn Poop rainbow dessert can be made in either a cake pan or a casserole dish. No matter which way you create it, it's sure to be a hit!
https://www.livinglocurto.com/unicorn-poop-rainbow-dessert-lasagna/ Photos and Recipe By: Living Locurto
3. Oreo Four Layer Dessert
Oreos simply make every dessert amazing. Serve up this dish to cookie and cake lovers alike to make everyone happy.
https://belleofthekitchen.com/2017/04/12/oreo-four-layer-dessert/ Photos and Recipe By: Belle Of The Kitchen
4. No Bake Chocolate Eclair Cake
It's simple, classic and has the perfect combination of chocolate and vanilla. This is also a wonderful dessert to top with some strawberries or a little caramel swirl on top.
http://onelittleproject.com/chocolate-eclair-cake/ Photos and Recipe By: One Little Project
5. Party In A Pan
There's another name for this dish, but I'm going to keep it G-Rated around here. Let's just say that this dessert is so flavorful, your friends and family will be begging you to make it at every get together.
http://www.jocooks.com/bakery/cakes/sex-in-a-pan/ Photos and Recipe By: Jo Cooks
6. Overnight S'Mores Lasagna
When the campfires are over, and everyone is nostalgic about s'mores, this overnight dessert dish is perfect to pull out of the fridge and serve up cold!
http://everydaycooking.goodcook.com/overnight-smores-lasagna/ Photos and Recipe By: Everyday Cooking
7. No Bake Cherry Cheesecake
If you're anything like me, you love the idea of cheesecake but hate the effort that goes into making one. It's quite the process! Make this cheesecake dessert instead that makes everything a little easier and more delicious.
http://sugarapron.com/2016/05/20/no-bake-cherry-cheesecake-lasagna/ Photos and Recipe By: Sugar Apron
8. Pumpkin Lasagna
Get in touch with your Pumpkin Spice side and serve up this incredible pumpkin lasagna! It is best served in the Fall and Winter months and is simply divine.
https://lilluna.com/pumpkin-lasagna/ Photos and Recipe By: Lil Luna
9. Chips Ahoy Icebox Cake Recipe
Who doesn't have a box of Chips Ahoy in their cupboard?! This dessert uses a lot of ingredients you have around your house to create the most delicious dessert for chocolate chip cookie lovers.
https://www.spendwithpennies.com/chips-ahoy-icebox-cake/ Photos and Recipe By: Spend With Pennies
10. Hot Fudge Caramel Ice Cream
Wanting a cooler recipe for warm days? Or a family gathering in a house packed with people that make it boiling? This ice cream dessert will cool you down, and fill you up with chocolatey, nutty goodness.
http://bellyfull.net/2016/02/10/hot-fudge-caramel-ice-cream-bar-cake/ Photos and Recipe : Bellyfull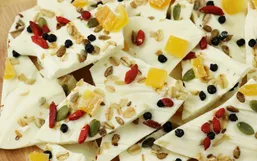 Looking for a healthier version of a chocolate bark? With bulk stores now selling greek yogurt chips, we decided to try our hands...
Mmmm, lemon desserts are my favorite (next to chocolate of course)!
Ice cream cakes are absolutely to DIE for. Have you heard of ice cream pies though?
What's better than a pie? A turnover! Why? Because a pie is made for a group of people, while turnovers are made especially for...
Marshmallows are often a symbol of our childhood in the summer. Roasting marshmallows over a bonfire with friends and family, then...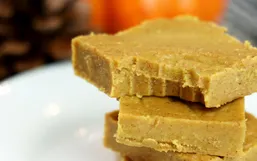 When I was a kid, fudge was something that so rich and decadent it came around maybe once a year.
When you think of a warm day, what flavors come to mind? Maybe some BBQ flavors like hamburgers, hot dogs and grilled veggies.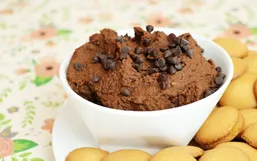 Hummus has forever been a protein-rich dip for your veggies and chips, a spread on your greek wraps and much more.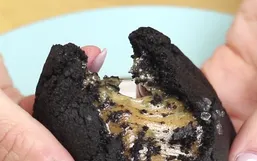 So another year has passed and your little trick or treaters have come home with a sack full of candy, and right at the bottom is...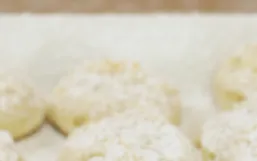 There's something incredibly heartwarming when baking cookies, especially when they are easy to make, and come out perfectly.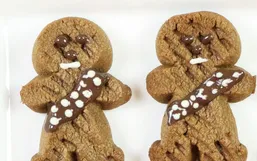 Okay so we cheated a little bit with this recipe and used pre-made AND pre-cut gingerbread boy cookie dough.
When it comes to brownies, it's rare to find someone that can resist them.