Happy National Sugar Cookie Day everyone! This sweet day will satisfy both the young and young at heart. Sugar cookies are simple to bake but we know them for their amazing decorations. Royal icing and a steady hand make these basic cookies the star of your next party. Check out our top 10 beautifully decorated sugar cookies for inspiration next time you're baking.
1. Kid Decorated Christmas Cookies
Sometimes your little ones can make the most beautiful decorations. Make it a fun craft day by baking the cookies the day before. Set up your table with icing and paint brushes, and keep little jars of sprinkles to top it off.
[Source: glorioustreats.com]
2
2. Valentines Day Sandwich Cookies
Try cutting out the center of half the cookies before you bake. After they're cook, spread jam on the whole bottom and top with the window'd cookies. Decorate it with powdered sugar or a drizzle of chocolate.
[Source: ourbigearth.com]
3
3. Back to School Treats
These cute cookies would be perfect for a teachers gift for back to school. While the icing is setting, sprinkle the side with decorating sugar. It will solidify with the icing and not flake off. It adds a beautiful sparkle and dresses up these cookies.
[Source: lemontart.ca]
4
4. Stained Glass Cookies
This simple technique will give amazing and beautiful results. Cut holes in the cookies before the cook. Half way through baking, fill the inside of the holes with crushed sugar candy, like lollipops or jolly ranchers. The candy will melt and fill the hole, giving a stained glass effect. For easy removal, bake the cookies on parchment paper.
[Source: aswesail.blogspot.ca]
5
5. Nature Themed Cookies
The cookies have been decorated to each be a different species of bird. Make your own types by changing the colors and patterns. These get their vibrancy by layering different heights of icing. Wait for one layer to completely set before layering on top.
[Source: forme-foryou.com]
6
6. Italian Tile Cookies
These little cookies are topped with a beautiful and intricate design. You can paint the design on by hand, or try this new technique. A design is printed on edible ink and transferred to the cookie. Ask your local bake shop for the printing supplies and make your own works of cookie art.
[Source: whippedbakeshop]
7
7. Wedding Favors
Sugar cookies are a classic wedding favor. Decorate them like cakes or like wedding dresses. The great thing about having cookie favors is that they can be made in any of your chosen colors. They're also delicious and a great treat!
[Source: littlethingsfavors.com]
8
8. Button Shaped Cookies
Sugar cookies keep their shape perfectly when baking. This lets you play with shape. These cute cookies are pressed into a button design. The baker also added food coloring to the dough to make it extra special.
[Source: cutestfood.com]
9
9. Cookie Cupcakes
When you bake the cookies, put a lollipop stick beneath them. The cookies with slightly expand, locking in the stick. If this doesn't work, use some royal icing as glue. These lollipop cookies are beautiful on their own, but work great to dress up a cupcake.
[Source: domesticgoddessadventures.blogspot.ca]
10
10. Pressed Flower Cookies
A number of garden flowers are actually edible. Press them in half way through the cooking time to fuse them into the dough. Alternatively, glaze the cookies and glue the flowers on with clear icing. Always do your research and make sure your flowers are edible before you cook with them.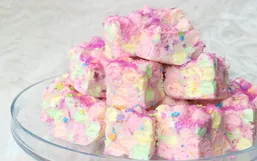 If you've spent any time on the internet at all lately, you may have noticed the growing obsession with rainbows, and pastels and...
Ice cream cakes are absolutely to DIE for. Have you heard of ice cream pies though?
Peach season is the best season! It's such a sweet and juicy fruit that is perfect for a day at the beach or in the place of a...
Marshmallows are often a symbol of our childhood in the summer. Roasting marshmallows over a bonfire with friends and family, then...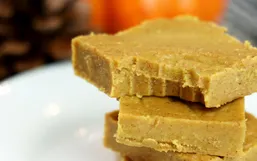 When I was a kid, fudge was something that so rich and decadent it came around maybe once a year.
When we crave chocolate, rarely do our minds first go to white chocolate. Why is that?
Have you offered to bring a dessert to a dinner party or family gathering before and then realized a few hours before the get...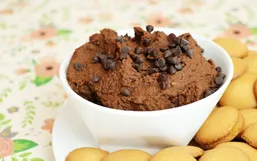 Hummus has forever been a protein-rich dip for your veggies and chips, a spread on your greek wraps and much more.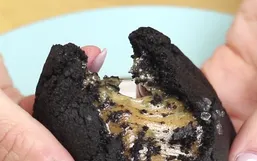 So another year has passed and your little trick or treaters have come home with a sack full of candy, and right at the bottom is...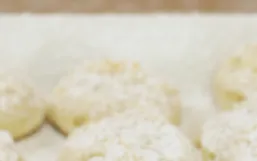 There's something incredibly heartwarming when baking cookies, especially when they are easy to make, and come out perfectly.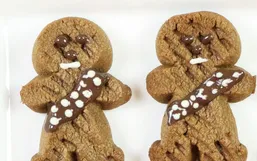 Okay so we cheated a little bit with this recipe and used pre-made AND pre-cut gingerbread boy cookie dough.
When it comes to brownies, it's rare to find someone that can resist them.