We tried out this "ice cream bread" thing not only once, but twice! We first made a light and nutty butter pecan ice cream bread, but were dying to try a more coloful and exciting way to enjoy one of our all time favorite ice cream flavors – CAKE BATTER!
With only two ingredients + sprinkles, you can take some melted ice cream, and turn it right into bread.
Seriously! It works!
Ingredients
1.5L (or 1.5 quart) Tub of Birthday Cake Ice Cream
3 cups Self-rising Flour
Blue Food Dye
Rainbow Sprinkles
Equipment
Bundt Pan
Mixing Bowl
Non-stick Cooking Spray
Method
If your ice cream isn't already a little melty, let it sit out at room temperature for 10-15 minutes.
Preheat your oven to 350 degrees Fahrenheit.
In a large mixing bowl, pour out your melty ice cream, and add one cup of self-rising flour at a time until it's well blended as a cake batter. Add blue food coloring and extra sprinkles here if you'd like. Set aside.
Spray your bundt pan with a non-stick cooking spray, and add sprinkles to the bottom (which will be the "top" of your bread when finished).
Pour batter evenly into the bundt pan, and spread to make it even.
Bake for 35-40 minutes or until a toothpick inserted comes out clean.
Allow it to cool completely before turning the bundt pan upside-down and gently allowing the bread to come out. Slice and serve, however you please!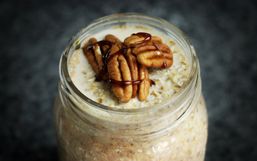 There are so many ways to enjoy overnight oats, once you get started on them, you'll never want to stop.
Mmmm, chocolate chip cookies are one of those comforts from home I can never say no to.
At the end of a long, warm day swimming in the sunshine, meeting up with friends and sipping on some ice cold drinks, the best way...
Ice cream cakes are absolutely to DIE for. Have you heard of ice cream pies though?
Peach season is the best season! It's such a sweet and juicy fruit that is perfect for a day at the beach or in the place of a...
What's better than a pie? A turnover! Why? Because a pie is made for a group of people, while turnovers are made especially for...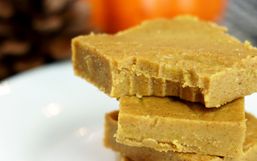 When I was a kid, fudge was something that so rich and decadent it came around maybe once a year.
When we crave chocolate, rarely do our minds first go to white chocolate. Why is that?
When you think of a warm day, what flavors come to mind? Maybe some BBQ flavors like hamburgers, hot dogs and grilled veggies.
Have you offered to bring a dessert to a dinner party or family gathering before and then realized a few hours before the get...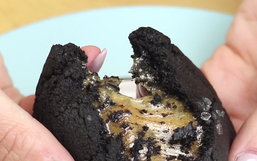 So another year has passed and your little trick or treaters have come home with a sack full of candy, and right at the bottom is...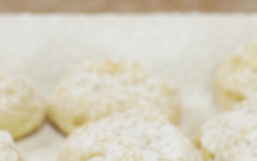 There's something incredibly heartwarming when baking cookies, especially when they are easy to make, and come out perfectly.